More Recent News

01 July 2018: Nury Amanov, Orient (Ashgabat)

"Apparently, the project 'Southern Gas Corridor' enters the 'golden age' of its implementation. Experts believe that SGC will no longer lack financial resources, since, in the light of recent events, its investment attractiveness has increased many times. This project was very attractive, in many respects, because work on the convention on the legal status of the Caspian came to the finish line. The news that Russian President Vladimir Putin decided to sign the Caspian Convention serves as a 'signal' for international financial institutions."
---

13 June 2018: Leman Zeynalova Trend (Baku)

The European Union welcomes the interest of additional suppliers to join the Southern Gas Corridor project, which envisages transportation of Azerbaijani gas to Europe, European Commission Vice-President for Energy Union Maros Sefcovic told Trend.
"'Our vision of the Southern Gas Corridor is not limited to the Shah Deniz II field. We therefore welcome the interest of potential additional suppliers of natural gas from the Caspian Basin, Central Asia, the Middle East, the Eastern Mediterranean Basin and the Black Sea to use the Southern Gas Corridor to further diversify natural gas supplies to Europe,' said the European Commission's vice-president.
"'We have been engaging with both, Azerbaijan and Turkmenistan with respect to the Trans-Caspian pipeline over the past years.' …
"The Trans Caspian Pipeline agreement will set the basis for the construction of a submarine pipeline connecting Turkmenistan to Azerbaijan, and in turn link this pipeline to infrastructure that will bring gas from Central Asia to the EU.
"Discussions with Azerbaijan and Turkmenistan focus on inter alia a treaty setting out legal commitments between the European Union, Turkmenistan and Azerbaijan, the bilateral arrangements necessary for Turkmenistan and Azerbaijan to achieve the commissioning, building, and operation of the Trans Caspian Pipeline itself, and the legal framework that will apply to filling the pipeline with gas from Turkmenistan, including an appropriate recognition of commercial arrangements."
---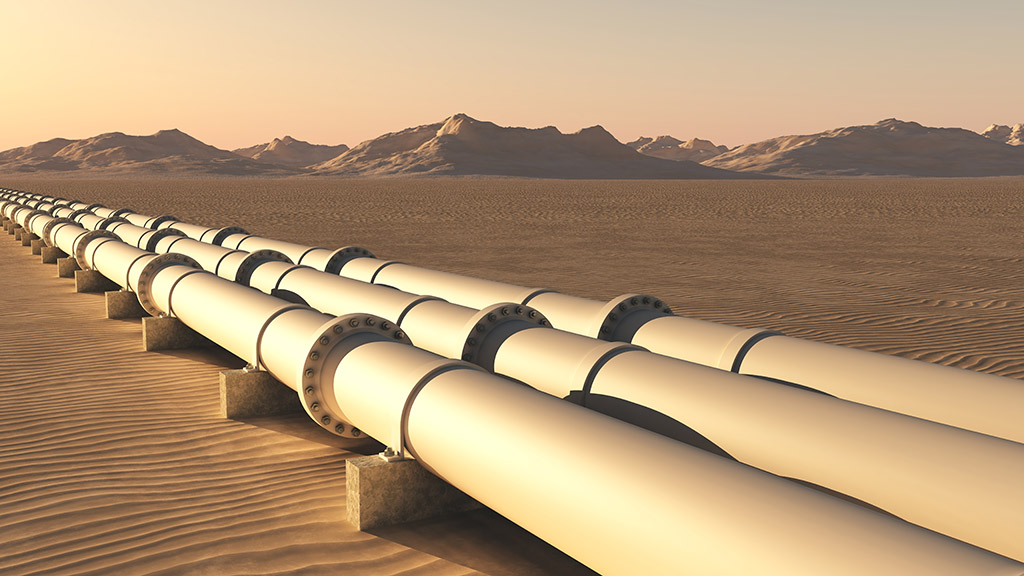 7 June 2018: Marika Karayianni, Institute of Energy for South-East Europe

An assessment by the British accounting company Gaffney, Cline & Associates indicates that Turkmenistan's largest gas field (Galkynysh, former South Iolotan) holds over 24 trillion cubic meters.
This makes it the second largest field in the world after Ghawar in Saudi Arabia. Two other fields, Yashlar-Minara and Bagtyarlik, are reported to hold 1.45-5 tcm and 1.3 tcm of natural gas respectively. Ashgabat has opted to develop these giant fields … by granting concessions and service contracts to certain companies …
The Trans-Caspian gas pipeline entails the construction of a 300 kilometer pipeline along the bottom of the Caspian Sea to the coast of Azerbaijan, and is seen as the optimal solution for the delivery of Turkmen energy resources to Europe. …
There are three key elements in relation to the construction of the Trans-Caspian pipeline:
Commercial production of natural gas, in order to justify the construction and operation of the pipeline;
Sufficient demand to support stable sales on commercially attractive terms for the government of Turkmenistan and the companies involved in production;
Commercial champion(s) interested in developing infrastructure that will deliver the Turkmen gas to Europe.
The first element is in place; Turkmenistan has the reserves. The second component needs to be secured, to enable the third …
---

25 January 2018: Peter Teffer, EUObserver

"Another gas project approved on Thursday, was a contribution of almost €1.9m to a €3.7m project related to the Southern Gas Corridor, which would ship gas from the Caspian sea to Europe.
"The EU will fund a study into the Trans-Caspian Pipeline and appears to be, in part, a political choice. …
"The need for EU co-funding is estimated to be necessary to enable a timely construction, as well as to give a signal to potential, future investors. The execution of the action would be a clear signal to the involved stakeholders and investors that the EU is pursuing the full opening of the potential of the Southern Gas Corridor."
---

10 August 2017: Unsigned editorial, Nebit-Gaz: "Electronic newspaper of the Turkmen oil and gas complex"

The Turkmenistan Oil and Gas Ministry, in an unsigned editorial in its electronic newspaper Nebit-Gaz, commented on an article by Elmira Tariverdieva, head of the Russian-language service of the Azerbaijani press agency Trend. Tariverdieva wrote that Turkmenistan's President Gurbanguly Berdimuhamedow, who is on an official visit to Baku, at a joint meeting for the press with President of Azerbaijan Ilham Aliyev, "announced plans to expand cooperation between the two countries in the energy sector." The Turkmen ministry's editorial continued:
"[Tariverdieva] quotes the words of the Turkmen leader that the two countries are using all opportunities to implement joint new projects in order to diversify energy and transport flows.
"One of the important projects that would allow diversifying energy flows from Turkmenistan could be the Trans-Caspian pipeline, through which Turkmen gas will go to Europe through the territory of Azerbaijan and Turkey, the publication [Trend] notes.
"According to E. Tariverdieva, today's geopolitical situation in the region makes diversification of Turkmen gas supplies a necessary element of the country's economic security.
"The Trans-Caspian [Pipeline], according to the author, is a project that is equally beneficial for Azerbaijan and Turkmenistan, [between which two,] despite a lot of speculation …, there is no competition.
"The publication says that the gas … already has its specific buyers and contracts have been signed for it for many years to come. Turkmen gas can help the 'Southern Gas Corridor' become more ambitious, and therefore more profitable, which is of paramount importance for the energy security of Europe."
---

2 June 2017: Fridon Docia, Haqqin.az (Original Russian here.)

Giorgi Vashakmadze, Advisor to the Georgian Prime Minster declared: "[T]he EU still needs to import gas from the fields of Azerbaijan and Central Asia [and] already has a special interest in the projects of the Trans-Caspian gas pipeline and the White Stream." Turkmen gas can begin to flow into TANAP from the very beginning of the project's work.
At the same time, there is no need to develop new deposits, invest large infrastructure investments. … "[I]t is expedient to implement projects with the lowest investment requirements, which require the maximum use of already existing gas-bearing deposits," said Vashakmadze. According to him, the European Commission found the Azerbaijani projects optimal.
The Prime Minister's advisor believes there will be no clashes of political interests with Russia over the export of Azerbaijani gas to central Europe. Said Vashakmadze: "Gas has ceased to be a political commodity through which it is possible to achieve some political goals. The European Commission has changed the legal rules of the game over the last five years.
"It is now impossible to exert pressure on a country by threatening to cut off gas supplies," he continued. "Now Gazprom cares about keeping markets … Measures have also been taken to demonopolize Russian gas supplies to European markets[, and have been] comprehensive." The struggle in Europe will be competitive, he said, "develop[ing] between Azerbaijani and Russian gas and, for example, liquefied gas from the United States. The whole issue is in competitiveness."